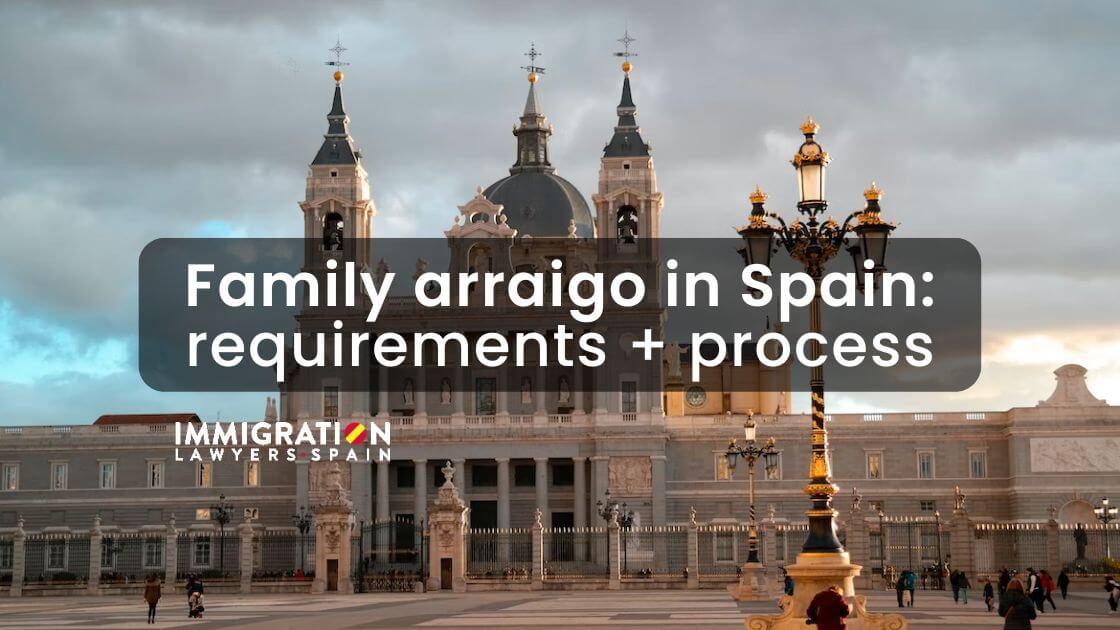 If you are in Spain under an irregular situation and you are a relative of a Spanish citizen or have any type of link with one, good news. You can apply for residency through family arraigo, now renewed and with greater advantages.
So whether you are the parent of a Spanish child, his children, partner or spouse, or even his legal guardian or caregiver, keep reading. Below we will explore all the assumptions and requirements in detail that you will have to fulfill to successfully obtain this arraigo.
The arraigo familiar is one of the three residence authorizations inside the group of those conceded due to exceptional circumstances. The other two paths we find inside that group are the arraigo social, the arraigo laboral and the study arraigo.
In this case, in general, we are talking about an authorization that allows you to live and work (both employed and self-employed) in Spain for 5 years.
In cases where you apply for this residency as the child of a parent who was originally Spanish, then you will be granted a 1-year authorization that you can later modify to a work permit or non-profit residency.
After those 5 years are finished, you will have the possibility to apply for permanent residency.
The important thing is that the arraigo familiar process carries within a work permit. Hence, you are allowed to open your own company and work as a freelance professional or find a job and work for a company.
In addition, it is one of the residences for exceptional circumstances that offers greater advantages, since:
It does not require you to prove you possess enough economic means
It will not be necessary to demonstrate you have been for a minimum amount of time in Spain (unlike the rest of the residences)
Who can apply for family arraigo?
Let's now move to the most crucial question here: who can actually benefit from the arraigo familiar procedure? 
Following the reform of the Spanish immigration regulations, there are several (and new) groups of foreigners who can initiate this process, since many of the cases in which the EU regime was previously applied now have moved to the general regime.
Thus, the following groups of non-EU citizens can apply for a residence permit based on family arraigo:
The father or mother of a Spanish child (born in Spain) who is less than 18 years old. In this group, parents of children who are from the European Union would also be eligible for arraigo. That means that no matter if you are the parent of a Spanish, Italian, or French kid, you can get your arraigo familiar in Spain.  That is why many foreigners decide to have their children in Spain so that they can get residency afterwards thanks to their children obtaining nationality by mere presumption. In case the parents are under 65 years of age, they must prove that they economically depend on the Spanish citizen.
Descendants of a Spanish citizen (children) under 21 years of age. In the case of being over 21, it must be demonstrated that she lives under the charge of the Spaniard.
The legal guardian of a minor of Spanish nationality, who is in charge of the minor.
Person providing support to a Spanish person with a disability, with whom he/she lives
Spouse or accredited domestic partner of a citizen of Spanish nationality
Ascendants over 65 years of age or descendants under 21 years of age of the spouse or accredited domestic partner.
Children of Spanish citizens by origin. This refers to those foreign citizens who are direct descendants of Spanish individuals who got their nationality due to the historical memory law or because they were children of Spanish citizens themselves.  In this case, a 1-year residency card will be granted (instead of a 5-year one).
But wait for a second. Maybe we should clarify something here that will help you define if you are inside any of the two groups. Who exactly are Spanish citizens by origin?
Individuals whose parents are from Spain and born in Spain
Those who got Spanish citizenship due to the historical memory law
Individuals whose parents didn't apply for their nationality when they were born, so now they have recovered it
Do you have any doubt? Ask anything to our immigration lawyers and get an instant answer:s
Before moving on to the next section, it will be essential to clarify and fully understand the remaining requirements.
Now you know which are the different groups of people eligible to get the arraigo familiar. 
Nevertheless, you should bear in mind that this process only works for non-European citizens. Non-EU citizens who are already in Spain (even if they are not legal residents), and that have a link with a Spanish national.
Furthermore, you can't have entry to Spain forbidden if you want to get your application accepted; nor have criminal records for the past 5 years.
Where should I apply for this type of arraigo?
There's an important difference here with the rest of Spanish permits. 
You must initiate the application procedure from Spain. You can't get a visa in your origin country in order to enter the Spanish territory and start the procedure there. 
The foreigner wishing to get the arraigo familiar must be already in the Spanish territory. Maybe you entered as a tourist in the country or you did it under an irregular situation. 
As we have seen, there is no need to demonstrate you have been in the country for a minimum period of time; hence this will not become any type of impediment.
Hence, and as long as you meet all the requirements, your authorization to live in the country will be granted. 
Therefore, the main applicant (or her designated representative) will submit all the documentation at the Immigration Office located in the city in which she lives. 
She must do it in person, as the telematic path is not available for the arraigo. 
And here you have two options to submit all the required documents:
Processing the application in person, after making an appointment at the immigration office
Doing it online (using a digital certificate), which will undoubtedly speed the process up
How long does the process take?
Once you gather and submit all the required documents, the Immigration Office has 3 months in order to emit its response. 
If, after those 3 months, you did not receive any update, that means that your application got denied. That is what is called denial due to administrative silence. 
Also, don't forget that if you would like to leave Spain during those three months in which your application is being processed, you will need to request an authorization to leave and come back to Spain ("autorización de regreso"). 
Let's now define which are the exact documents you need in order to apply for arraigo familiar:
Your passport (complete) and a copy of it
The corresponding fee paid (model 052)
The document that accredits that you have your address registered in Spain (what is called "padrón") jointly with the Spanish citizen
Criminal records in the countries in which you have lived for the past 5 years
Your birth certificate. This document does not expire
And, then, depending on your case, document that proves the relationship with the Spanish national, which can be:
Birth certificate of your father/mother, obtained in a Consular Civil Registry (at your origin country) or via the Central Civil Registry if you are in Spain.
Birth certificate of your grandmother/grandfather. Why? Because, many times, descendants from Spanish citizens have a grandmother or grandfather who was born in Spain and has citizenship by origin.
Child's birth certificate
Marriage or domestic partnership record
Documentation accrediting the disability of the Spanish citizen, or the need for support measures for the exercise of their legal capacity, as well as being in their care and living with them. In addition, DNI of the Spanish citizen.
*Bear in mind that all the documents must be legalized in case your country is not part of the Hague Apostille agreement, or apostilled if it does.
As we mentioned, the arraigo familiar will grant you the possibility to stay in Spain for 5 years (general case), or 1 year (for children of parents originally Spanish). 
In the first case, the process is simple: once the 5 years have been completed, it is possible to apply for long-term residence, which allows indefinite residence in Spain.
But in the second case is where we find some important requirements. Because for many it is much more complicated to renew this authorization rather than to get it in the first place. 
 Once you renew your arraigo familiar, you will jump to: 
–Work permit as an employee, if you have been working for a minimum amount of years in Spain. 
–Work permit as a self-employed individual, if you have constituted your company or become an "autonomo"
–Non-lucrative residency, if you haven't worked but have sufficient economic funds. 
That is why it is so important to work during your arraigo year. Otherwise, once the renewal time comes, you won't be able to keep your residency in the country. 
Needless to say, if you have been working illegally without a contract, that won't count as working. 
Again, this would be only for the cases of a child of an original Spanish father or mother, in the rest of the cases the process is completely different.
Arraigo Familiar or Family Member of a EU citizen?
Many non-EU citizens who are aware of the two options in order to get the residency have this doubt. 
Which process should I aim for?
The answer is: it depends. 
If you are someone whose parents obtained their citizenship due to the historical memory law or by origin, go for the arraigo familiar procedure. 
But if your partner (spouse or civil partner), ascendants or descendants are the ones from Spain, then you must also consider the residence permit as a family member of an EU citizen.
The main difference can be found on its requirements: the EU family card does not require a criminal record certificate, but it does require financial means.And, on the other hand, although arraigo familiar requires the criminal records certificate, does not require the economic funds demonstration (besides allowing you to save the immigration tax).
Start your application now
If don't want to worry about the boring paperwork stuff, documents, and legal procedures …
Let us take care of it!
Our team of immigration lawyers will be happy to get apply for arraigo familiar for you. We will manage the entire procedure from beginning to end, and solve any doubts you may have.
Start now and save time: