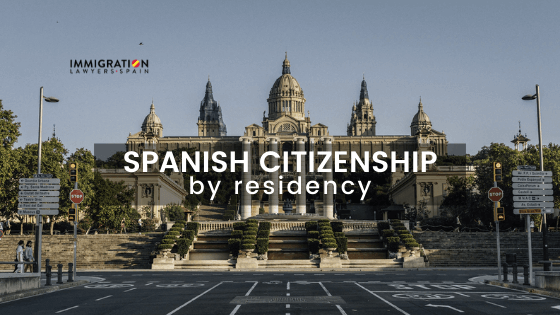 Having Spanish nationality presents many advantages. Being able to freely travel throughout Europe and legally working in any EU country is one of them, besides having the right to vote, for example. That is why many foreigners wish to obtain it. 
To make things simple, in this article we will address this topic. We will go over the main requirements to get Spanish citizenship by residency; plus explaining how to navigate through the legal application process, and providing some useful tips to get it in record time. 
What is Citizenship by residency?
The Spanish nationality by residency is one of the different ways to get Spanish citizenship. It is the one conceded simply because you have lived legally in the country during enough time. 
Unlike other nationality procedures, this specific type is the easiest to get. You only need to reside with your residence permit in Spain during the required amount of time, and you will become a national of the country. 
How long do I need to live in Spain to get citizenship?
The general rule says that any foreigner who has lived in Spain with her residence permit uninterruptedly during 10 years will get Spanish Citizenship by residence. 
Nevertheless, there are certain exceptions or situations in which you can get nationality much faster: 
If you are married to a Spanish national, you only need to be in Spain one year to get citizenship. This process is called citizenship by marriage, and you can learn about the requirements here. 
Only 2 years for those who are from Portugal, the Philipines, Andorra, any Latin American country, or from Equatorial Guinea. 
If you are a refugee, the required time is 5 years. 
*We will talk in more depth about the characteristics of those years in the requirements section so you understand what makes them valid. 
Do you have any doubt? Ask anything to our immigration lawyers and get an instant answer:
Legal requirements to get Nationality by residence
Let's now analyze the main requirements to enjoy a successful application.
Uninterrupted and Legal Residency
As we mentioned, the main requirement for this type of nationality is demonstrating that you have lived in Spain during enough time. 
But it is not enough to be physically in the country. For the years spent to count for the nationality, you must make sure that:
You have spent the total amount of years with a valid residence permit, as the time starts counting since you get your first card.
Those years are spent uninterruptedly. Basically this means that you can't leave the country for a long period of time, neither you can leave often. 
Months after a student visa or tourist visa do not count for citizenship. Those are stays, not legal residence periods. Hence they are not valid. 
*On the other side, the first year with your arraigo computes for citizenship count. 
Passing 2 Exams: Demonstrating your Integration with Spain
Another important requirement is to demonstrate a sufficient-enough level of integration with the Spanish society. That is checked trough 2 different citizenship tests:
You need to pass the A2 Spanish language test, as long as you don't come from any Spanish-speaking country.
You will also need to pass the cultural exam, CCSE. This test is generally taken by any foreigner, unless she has studied high school in Spain.
Both tests are organized by the Instituto Cervantes.
In the latter case, we are talking about a multiple-choice test. The questions are chosen from a list of 300 questions published yearly by the Instituto. So the best way to pass it is to practice by doing all of them beforehand. 
Finally, the last factor that defines whether you will get your application approved or not is your behavior during the past years.
In order to prove that you register a civic behavior, the authorities will check your criminal background records and whether you have police records or not.
But there is something you should consider. A lack of criminal records does not always simply good civil behavior. And good civil behavior does not necessarily mean lacking criminal records.
So you can register police records but be granted citizenship either way, as long as that constitutes an isolated behavior.
And, conversely, if you for example belatedly renewed your residence card, you could be classified as someone with bad civil behavior. 
As you can see, there is NO need to submit a job contract or demonstrate the possession of sufficient economic means within your application.
Which are the documents you must submit?
The list of documents for your citizenship application is not that long. Basically, you will need to present:
Certificate stating that you are able to apply for Spanish Citizenship, obtained after passing the A2 and CCSE exams.
The document that demonstrates you have paid the corresponding fee, which is € 103,20.
Passport and NIE number.
Resident register (empadronamiento). This is especially important in those cases in which you take advantage of the 1-year exception (citizenship by marriage with a Spanish citizen). In those situations, you and your spouse must be registered together in the padrón.
Proving you have sufficient economic means to demonstrate which are your professional activities in Spain.
Background records from your country of origin.
ID of your spouse and marriage certificate (if applicable).
If you want to grant your children the possibility to get Spanish citizenship by option later on, you should also include their birth certificates. If you don't include that document, once they apply, the application will get rejected.
All foreign documents you include must be properly translated and legalized trough consular means.
How long does it take to get Citizenship by Residency?
2 tips to get Spanish Citizenship in a record time
Would you like to get Spanish nationality in just 1 year and a half? Because that is completely possible. And, in order to do it, you just need to use one of these two tips:
First of all, use a lawyer for the application. Why? Because they can access a specific registry which processes applications much faster.
The second option is to apply online, via telematic means. Forget presenting your application physically. Online is much faster. Once you submit the application, the government has 1 complete year to submit their response.
After that period, if you did not get an answer, you can then hire a lawyer to present an appeal. Why? Because you got a "denied" application due to negative administrative silence. And as there is no valid reason for that, you can demand them. As they can't afford to go to court, they will hurry up and submit their (positive) response in 3-4 months. a
If you combine that with getting the appointment for the swearing process even before your resolution, you can get citizenship in just 18 months.
Finally, let's study how you can get nationality by residence step by step. The application process is as follows.
As we have just mentioned, the best idea is to start the application online, and you can do it here. 
Nevertheless, it is also admitted to submit your application on paper at the Civil Registry. 
After one year (approximately), you will get a response, again online. The resolution defines if you were conceded citizenship or not.
After receiving your favorable response, you will have a total of 6 months to finish the process with the oath of allegiance on the Civil Registry that corresponds to you according to your "empadronamiento"; or at the notary.
Bear in mind that you must get an appointment for that.
During that day, you will get a specific document to go to the police office and request your Spanish passport and DNI. We also recommend you to apply for your "certificado de concordancia" on that same day.
How to check if your application was accepted
Finally, let's see which are the most common reasons of denied citizenship applications. This is very important to consider, as it can help you prevent wasting time and money:
The most common reason is that the government finds that you have criminal background records, being criminal or judicial.
Another one is that you have exited Spain for too many times during your residency years, or that you were abroad for a too long period of time. This can lead to an understanding that you lost the desire to acquire Citizenship.
Finally, some denials occur because the applicant does not show any kind of legal activity in Spain (for example she has not studied/worked in the country). This makes it difficult to check her degree of integration with Spain.
Until here everything you need to know for a successful nationality by residency application.
Nevertheless, it is highly possible that you still have some doubts. Or that you directly need the help from specialized lawyers to finish the application (as we have seen, it will get done faster that way).
You just need to contact us and one of our immigration lawyers will get in touch with you in less than 24 hours to start the process now. The long-run residency in the Spanish territory is closer to you than what you may think!