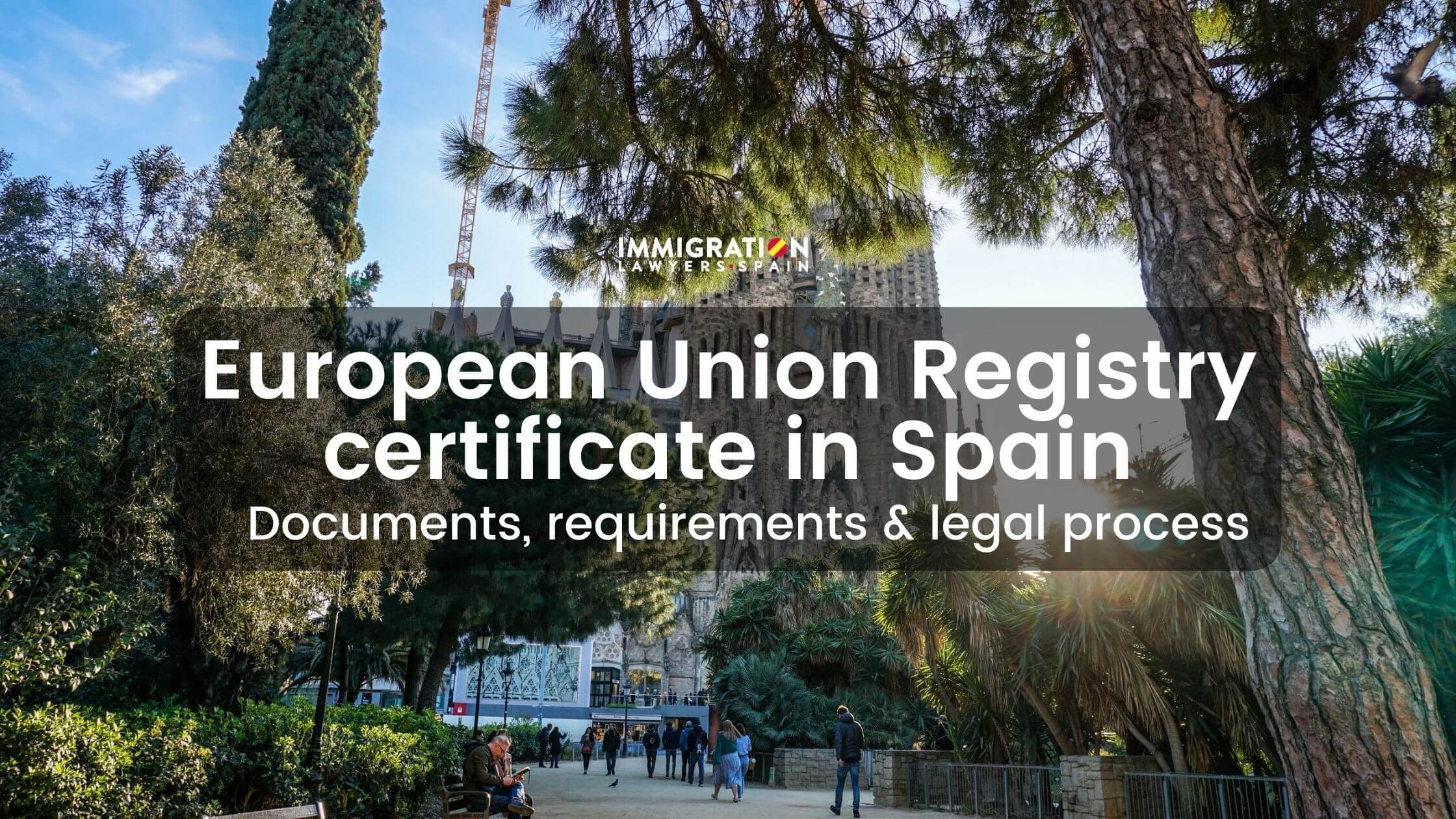 Are you a citizen of the European Union who would like to start living in Spain? In this post, you are going to learn everything you need to know about the EU registration certificate, also known as the green card. We will take a look at all the documents, requirements, and step-by-step immigration procedure to easily obtain your residence permit in the country.
What is the EU registration certificate?
All foreigners who are nationals of any country within the European Union, the European Economic Area, or from Switzerland, and who wish to stay in Spain for more than 3 months are obliged to apply for registration in the Spanish central register of foreigners.
This will be done by processing their application for a document called EU registration certificate, also known as a green card.
This certificate is nothing more than the document that identifies the EU citizen in Spain. But it also allows them to live and work in the country legally, without limitations or restrictions.
Unlike the legal procedure that non-EU citizens must follow to obtain their residence permit in the country, when it comes Europeans everything is simpler and faster, being able to establish themselves in the country in record time.
Thus, EU citizens do not have to apply for a TIE, nor do they have to be in possession of an NIE or solicit one beforehand.
This certificate (green card) comes with an NIE number within, the identification number that will accompany the foreigner throughout all her life.
There are currently three regulations and guidelines governing the entry, residence, and free movement of European citizens and their relatives within the countries of the Union:
Royal Decree 240/2007 from the 16th of February
Order PRE/1490/2012 from the 9th of July
By clicking on each of them you will be able to access the content of these regulations.
Do you have any doubt? Ask anything to our lawyers and get an instant answer here:
What is the validity of the green card?
Once you register as an European Union foreigner living in the country, your certificate of registration will automatically be issued.
From the on the countdown to apply for procedures such the long-term residency or Spanish nationality (which can be obtained after 10 years of residence in the country) will start.
This initial certificate is valid for 5 years, so you just need to request a new one as long as you lose it or its contents become illegible.
At the end of those 5 years you can will be able to apply for a permanent one, which will last 10 years.
The exact requirements to apply for a green card depend on your reasons for coming to Spain. 
In that sense, we find 4 different cases possible as we will see below. The documents and requirements will vary depending on the specific case you find yourself in. 
However, as a general requirement, you must apply for your EU certificate during the first three months after you enter the country.
Let's see what the specific requirements are according to your plans in Spain:
Coming to Spain to find a work contract
This is the case for all those EU citizens who will start working as employees for a Spanish company.
Here the employment relationship must be demonstrated by means of the employment certificate or by a recruitment declaration from the employer.
This must include, at least, the name, address of the company, contribution account code, and its tax identification number (CIF).
In addition, submitting the job contract and social security registration document will also be essential (access a complete guide on how to obtain your social security number here).
And here comes a very frequent question: Can I be hired if I still do not have my NIE or green card? This is crucial because, in order to obtain your registration certificate (which contains your NIE), you must have a job contract first.
Yes. It is possible. Your passport (proving that you are a member of the EU) will be enough.
Moving to Spain to work as a self-employed individual
On the other hand, we find the case of those foreigners who are going to develop their economic activity in Spain on their own; that is: as self-employed/freelance, or they will set up their own company.
In this case, the documents required are the registration in the census of economic activities in the case of having registered as self-employed (called "autónomo" in Spanish), or registration in the Commercial Register ("Registro Mercantil") if a company has been opened.
In addition, again, registration with the Spanish social security system.
Having sufficient funds (and not working)
But what happens if the foreigner does not intend to work in the country?
In that case, if she is not going to carry out any kind of economic activity but will be living regularly in Spain, she will have to prove the possession of sufficient economic means.
In other words, she cannot be an "economical burden" to the state, so she must be able to assume all her expenses autonomously.
In addition, if you come with your relatives, you must also have sufficient means to cover their expenses in Spain.
Any proof will be useful to verify this point, such as the ownership of bank accounts (in Spain or abroad) with sufficient funds, the property of real estate (or incomes generated by it), documents that justify the receipt of pensions or earnings from abroad, etc.
The minimum amount to be demonstrated is valued based on the yearly IPREM (the funds must be equivalent to 100% of that IPREM for each year in the country).
Finally, it is important to have public or private health insurance with the same coverage as those provided by the Spanish national health system, since foreigners in this situation do not contribute to social security.
Bear in mind that if you are an EU citizen and have paid contributions in your home country (or continue to do so), you can benefit from the so-called S1 certificate in Spain.
Coming to study in the country
Finally, there is also the possibility of coming to Spain in order to study.
In this case, the main requirement is having a secured spot in any accredited educational centre in Spain, regardless of whether it is public, private or subsidised.
The document to submit in order to prove it will be the enrollment certification with the centre in which studies are going to be conducted (i.e. showing how the university has accepted us and we have a spot).
Once again, the immigration law requires both medical insurance contracted in Spain (either public or private) with coverage for the entire duration of the stay in Spain, as well as sufficient economic means for both the student and the relatives with whom he/she will come to Spanish territory (if applicable), according to the IPREM.
Finally, the census ("empadronamiento") or rental contract certifying the place of residency must also be submitted.
In addition to the specific documents that we have seen for each particular case, there are a series of documents that are required no matter your situation.
You must present, at the time of application, the originals of:
Valid passport (which can't be expired)
Proof of payment of the corresponding fee, in this case, 790 012
How to get the European Union registration in Spain
Bringing your relatives with you
Many Europeans who start living in Spain do so with their relatives. And that is mainly because the immigration law makes it easy for them.
In this sense, there are two different options:
If the family member is European, the process is pretty simple: they must also ask for their EU registration certificate.
But if the relative is from outside the EU, then she must apply for a residence permit as a family member of an EU citizen.
In other words, even if the relative (spouse, children, etc.) does not have European nationality, it is still possible to obtain legal residence in Spain thanks to a regrouping procedure that will allow them to live and work in the country for 5 years, and which must be formalized during the first 3 months of the relative's entry into Spain.
The exact conditions and requirements for this non-EU relative will depend on whether the regrouper (the European citizen) has entered Spain to study or work:
In the case of being a student, the European citizen can bring his/her children, spouse or civil partner, and/or children of his/her spouse with.
If she will be working, either as an employee or self-employed (or if she or she has sufficient economic means and won't work), then she may also bring disabled family members who are over 21 years and direct ascendants both from his family or from her spouse.
The important thing is that these relatives must be dependent.
And what does it mean to be dependent?
It means that this relative, is receiving economic help from the EU citizen when it comes to the main living costs: rent, food, electricity, etc. 
And she will need to prove this economic dependence by showing regular money transfers.
In addition, documentation must be provided to prove the kinship relationship, legalized and translated into Spanish.
In the case of a marriage or civil partnership ("pareja de hecho" in Spanish), the relationship must have been registered in Spain at the Civil Registry first; and, in addition, a joint census must be submitted demonstrating cohabitation in Spain (the minimum duration will depend on the autonomous community in question).
Legal assistance to obtain your EU registration certificate
We have now analyzed the most relevant legal aspects when it comes to obtaining residency in Spain as a European Union citizen. 
If you still have doubts or would like our team of immigration lawyers to manage the complete procedure for you, do not hesitate to contact us.
We are at your complete disposal!