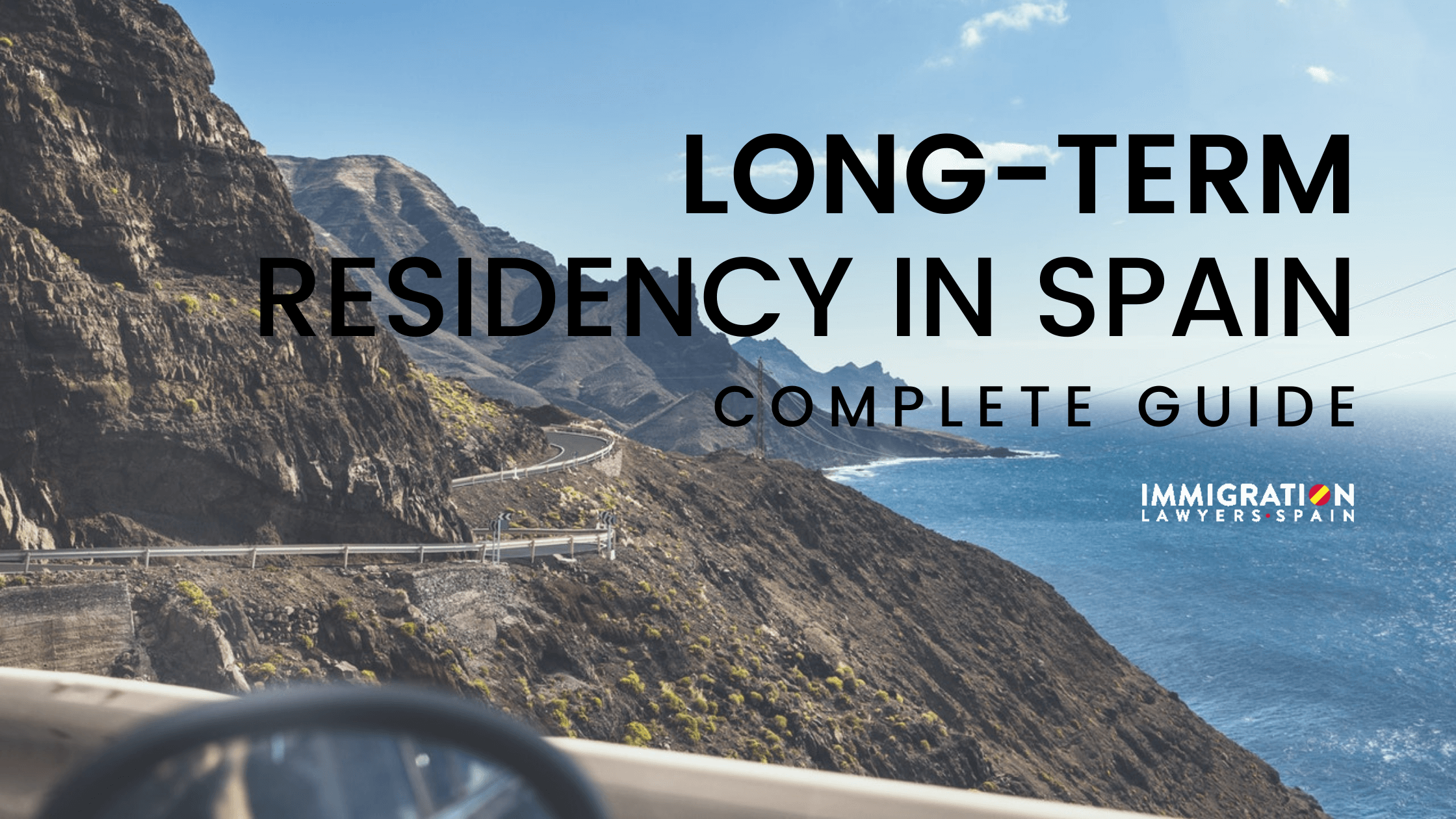 After 5 years of living in Spain, the advantages arrive. If you have done so legally and continuously, you can apply for one of the most advantageous permits in the country: long-term residency (previously called permanent residency). In this article you are about to learn everything you need to know about it: the main advantages, requirements, step by step application procedure, and how to renew it after 5 years and other useful tips.
If you would like to live in Spain indefinitely without worrying about anything… Keep on reading!
What is the long-term residency?
The long-term residence card is a residence authorization that you can obtain after living in Spain legally and continuously for more than 5 years.
That is to say, after having resided legally in the country with any temporary permit for a sufficient amount of time, you can move on to this type of card previously known as permanent residency. It authorizes you to live and work indefinitely under the same conditions as Spaniards.
Unlike the rest of the cards, which completely expire upon their expiration date, in this case we are talking about an indefinite residence.
And what does that mean? That once you get it you can live forever in the Spanish territory.
Thus, your right to reside legally will never expire once you obtain this card: you will simply have to periodically renew the card itself, the plastic.
So, as you can see, this makes it one of the most "precious" objectives for any foreigner who intends to settle in the country for the long run.
Do you have any doubt? Ask anything to our immigration lawyers and get an instant answer:
Without any doubt, this is the "best" residence card in Spain, the most comfortable or the one that offers the most advantages.
But what exactly are those advantages?
Possibility to work both as an employee and as a self-employed
As you know, if you had a residence and work permit, this allowed you to work either as an employee or as a self-employed individual. When you applied for your card you had to specify one of the two modalities, and you would only be grantedt the possibility to do one or the other.
But you could never work as an employee or self-employed at the same time, nor could you make a change freely.
However, with the long-term card, everything is much easier: this residence is valid for both types of work. With it, you can work as a self-employed person, for a company, or both at the same time without the need to make any extra request at the immigration office.
Bring your parents to Spain
No need to demonstrate economic means
This point will surprise many: it is certainly something totally different from other residence permits.
But in this case it will not be necessary to prove that you have the economic resources to support yourself in Spain.
That is, it is neither necessary to have worked a minimum of time in the country, nor to be working at the time of application, nor to demonstrate extra resources in a bank account or similar.
It is simply something that will not be asked, so your application becomes much easier.
You can always recover it
Once obtained, it is possible to lose it. If you are outside the European Union for more than 1 year in a row (12 consecutive months), the card will expire.
So you must take into account this requirement to keep it.
However, unlike other temporary cards that cannot be recovered once lost (you must start the application procedure again), this one can be recovered.
Whether from your home country or directly from Spain, you can easily get it back.
This gives you much more freedom and protection.
Main differences with the EU long-term card
Many people tend to confuse them. These are two very similar types of residencies, both obtained after 5 years in Spain and with both you can work as an employee or self-employed.
The two of them also have an indefinite character. 
However, there are important differences when it comes to their requirements and their advantages.
First of all, the "normal" long-term residency is requested without the need to present economic means. You may not be working at the same time as the application, but as long as you meet the other requirements, this permit will be granted to you.
However, the long-term EU visa does require the demonstration of sufficient economic means, and these must be your own. In other words, you must be working as an employee or self-employed person, or have a bank certificate demonstrating the possession of sufficient savings.
On the other hand, and this is a very important point, the long term EU card allows you to live and work in any country inside the European Union (something that the general permanent residency does not). So if you are thinking of living in any other country within the area, this is your go-to option.
Once you do so, you will easily be able to convert it to the most similar card they have in the chosen country. However, this does not mean that the long term EU card has an implicit work permit for any other country in the European Union. It simply makes the application procedure much easier, as you will not have to start from scratch as a non-EU citizen.
Finally, bear in mind that if you have been a foreign student in Spain, only half of those years required to apply for the EU long-term permit will count.
<h5></h5><div ><script type="text/javascript" src="https://app.getresponse.com/view_webform_v2.js?u=GonC8&webforms_id=38975002&v=0"></script></div>
So, what are the main requirements for this indefinite card?
As we have been explaining, they are really simple that you will easily meet:
Have no criminal records. Although it is true that currently that is not a direct cause for denial  100% of the times (until very recently they were), our recommendation is that you avoid them at all costs. Nevertheless, if you have committed any crime (whatever the type), you can always cancel them. 
You must have resided legally and continuously in Spain for 5 years. You may have experienced absences in Spain, but these cannot exceed a total of 10 months during the last 5 years or more than 6 continuous years.
You must be a citizen from outside the European Union.
You cannot be in an irregular situation in Spain at the time of applying for the card.
It is also possible to obtain the long-term residence if you have been the holder of an EU blue card for 5 consecutive years.
Documents you will need to submit
Let's now explore the list of all the documents you will need to present at the time of your application:
First of all, the EX-11 application form, duly completed
Full, valid passport and copy of it
Certificate of criminal records, both in Spain and in any other country where you may have lived during the past 5 years
Current residence card, which must be valid and in force
How long does the process take?
The resolution time to get the long-term card is 3 months.
That is, after submitting your application with all the documentation, the administration has 90 days to issue a favorable or unfavorable response.
If no response is received during this time, it will be understood that the application has been approved by positive administrative silence.
Once you receive a positive notification, you will have 1 month to attend any police office and apply for your residence card in physical format. You will have to provide 3 passport-size photographs, the EX-17 form, and the payment of the relevant fee (€ 20.60).
How to renew your long-term residency card
The renewal of the long-term card is very simple, and must be done every 5 years.
Especially if we compare it with the renewal of the rest of the residence permits that you have been doing as a foreigner in Spain, this is half the hassle.
What is the reason behind this?
The simple fact that you are not renewing your legal status or right to reside in the country. This is already guaranteed indefinitely. You only have to renew the card or plastic that contains your data and photograph. Nothing else. It's a simple process.
In fact, even if you do not renew this TIE, you will still have the right to live legally in Spain.
Let's think about the renewal of the ID card that any Spanish citizen holds, the DNI. If she does not renew it in time, she does not lose her status as a Spanish citizen. You only have an expired document (although this may be a monetary sanction since by law it must be valid and up to date at all times).
Thus, the two main requirements for renewal are totally simple: not to have been outside the EU for more than 12 consecutive months, nor to have a serious criminal record, nothing more!
Another point you should bear in mind is that you cannot renew when the card is still within its validity period. The police office will not let you do it. You must renew when it has already expired.
That is why our recommendation is that a little before its expiration date you make an appointment online with the police station, so that just the following day you can go there in person and renew.
To do so, you'll need to submit:
Application form EX-17
Registration certificate ("padrón") if you have changed your address
Original card and photocopy (the one that has now expired)
Original passport and copy of it
Proof of payment of the corresponding fees (790-012), with a value of 20.60
In addition, it is very likely that you will be asked to provide some proof that you have not left the EU for more than 1 consecutive year; although your passport and its stamps will suffice in this regard.
Once you have the documentation, you will register your fingerprints, and after 25-30 days you will be able to pick up the card again. During this time, your residence permit is totally valid, although if you want to travel outside Spain you will have to request for the so-called return authorization.
And that's all you need to know to get and renew your long-term residence. 
However, if you still have doubts or would like our team of immigration lawyers to help you out with the application procedure, please do not hesitate to contact us. 
Our team is at your disposal 24/7!