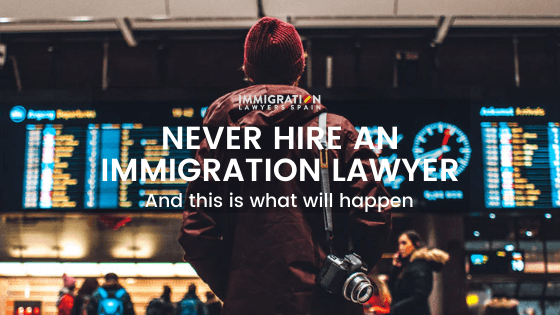 Many foreigners who are in their journey of moving to another country face the same question. Should I hire an immigration lawyer? Do I really need one?
They may be tempted to manage the whole legal process by themselves. But they are not sure if they actually can, or hiring a professional is required. 
In this article we will solve that doubt. 
Is it really necessary to hire an immigration lawyer?
No. You don't have to. 
In fact, don't do it. Never hire and immigration lawyer. Never rely on an expert to get your residence permit in a foreign country. 
Never hire an immigration lawyer, and this is what will happen to you:
You will lose hours, days and even weeks trying to figure out what is the exact process you need to follow according to your situation. And you may never find out what to do.
You may find all the documents, requirements, and steps online. But even then, you would be risking your application, as chances are it can get rejected easily if not done properly. 
It is highly probable that you will get lost. And once you find the route, you will get lost again. You will be experiencing headaches everywhere and everytime. 
You will spend money in places you shouldn't. 
And this list could go on and on. 
Again, the fast answer to the question is no. You don't really need an immigration lawyer. It is possible to get your visa/permit without one. 
But, if you want to save time, money and avoid a never-ending journey that causes headaches, hiring an immigration lawyer may be the best option. 
And we are now going to explain why. 
What can an immigration lawyer do for you?
Rather than seeing your immigration lawyer as the serious person that is constantly reading and preparing documents, you should see him or her as your north star. 
An immigration lawyer will be your guide in the journey of moving to another country for the long run. 
It will be the light that illuminates and clears the path for you.
It will be the reliable source of information that will solve each and every small doubt that may arise along the way.
And, even more important, it will be the person who is in charge of managing the whole visa and residence permit application, making sure it gets successfully accepted. 
Her main goal? Enabling you and your family to start living in a new country as easily as possible. Making sure there's no obstacle that could make that enjoyable part of your life go wrong. 
Do you have any doubt? Ask anything to our immigration lawyers and get an instant answer:
What are the main benefits of hiring an immigration lawyer?
Initial guidance: get a clear roadmap
Each person is a completely different world.
This means that the requirements that apply to one individual are not the same as those that another has to meet. Furthermore, the exact process to follow will also differ according to your personal circumstances.
So knowing how to get your residence permit may not be that easy.
The good thing about having an immigration lawyer is that she will clearly outline all the steps you should follow in order to get your visa, and the specific requirements that apply to your specific case.
That initial "consulting advice" is essential. Especially when you don't know anything about the Immigration Law of that country.
An immigration lawyer has dealt with tons of clients from all around the world. This simply means one thing: they have helped someone like you or in the same situation as you are. 
Why is that so useful?
Because they know how to prepare your application so you can avoid getting it rejected. As they have that much experience, they know all the details and nuances that make an application successful. 
And those insights or insider information is something you may be lacking right now. 
They know the main mistakes people usually make, and they will help you avoid them.
No stress and no time wasted
Getting a residence permit can be a really looong and tedious process. 
Many steps to follow, many documents to prepare, and many different places to send them. 
And that, for sure, requires time and more time. And as the task is not easy, that time comes with stress. 
Where should I send this? What should I do now?
But having an immigration lawyer next to you managing the whole process avoids this problem. 
As they are in charge of the application, you don't need to worry about anything. 
They send you the detailed list of documents you need to provide, they prepare them properly and send them to the competent institution, and finally notify when everything is ready; guiding you step by step if you need to do any additional paperwork. 
It's simple. By hiring an immigration lawyer you only need to send them the documents they tell you, sign, relax and enjoy the process of starting to live in a new country.  
Finally, the 4th advantage: the possibility to concede them something called power of attorney. 
There are several steps along the way that may require you to travel to the country before you get your permit. Or, besides, there are certain actions you need to take at the police or immigration office. 
What happens if you can't/don't want to go there? Well, by having an immigration lawyer, you don't have to. 
You can concede her power of attorney so she becomes your legal representative and can sign and submit any document as if it was you. 
Again, a lot of time saved here.  
Do immigration lawyers go to court?
Yes, immigration lawyers do go to court, for example when an appeal is required to get the residence permit for any of their clients. 
Let's take an example. 
Let's say you prepared all your documents and you think you meet all the requirements to get a specific type of visa. 
You submit them at the consulate or embassy, and after a while, you get a negative response. Application denied.
How is it possible? What did go wrong? You planned everything in advance and had all the requirements down. 
That is one of the moments in which you will go to an immigration lawyer. She will analyze the situation, understand why your application was denied and, if applicable, will formalize an appeal to finally get your visa; and even go to court if necessary.
Do you need an immigration lawyer now?
We hope that after reading this article you now understand everything an immigration lawyer can help you with and how useful they can be. 
That is why, if you need help with your residence permit or visa application, our team is ready to help you out. 
Just send us an email and we will answer all your questions in less than 24 hours!