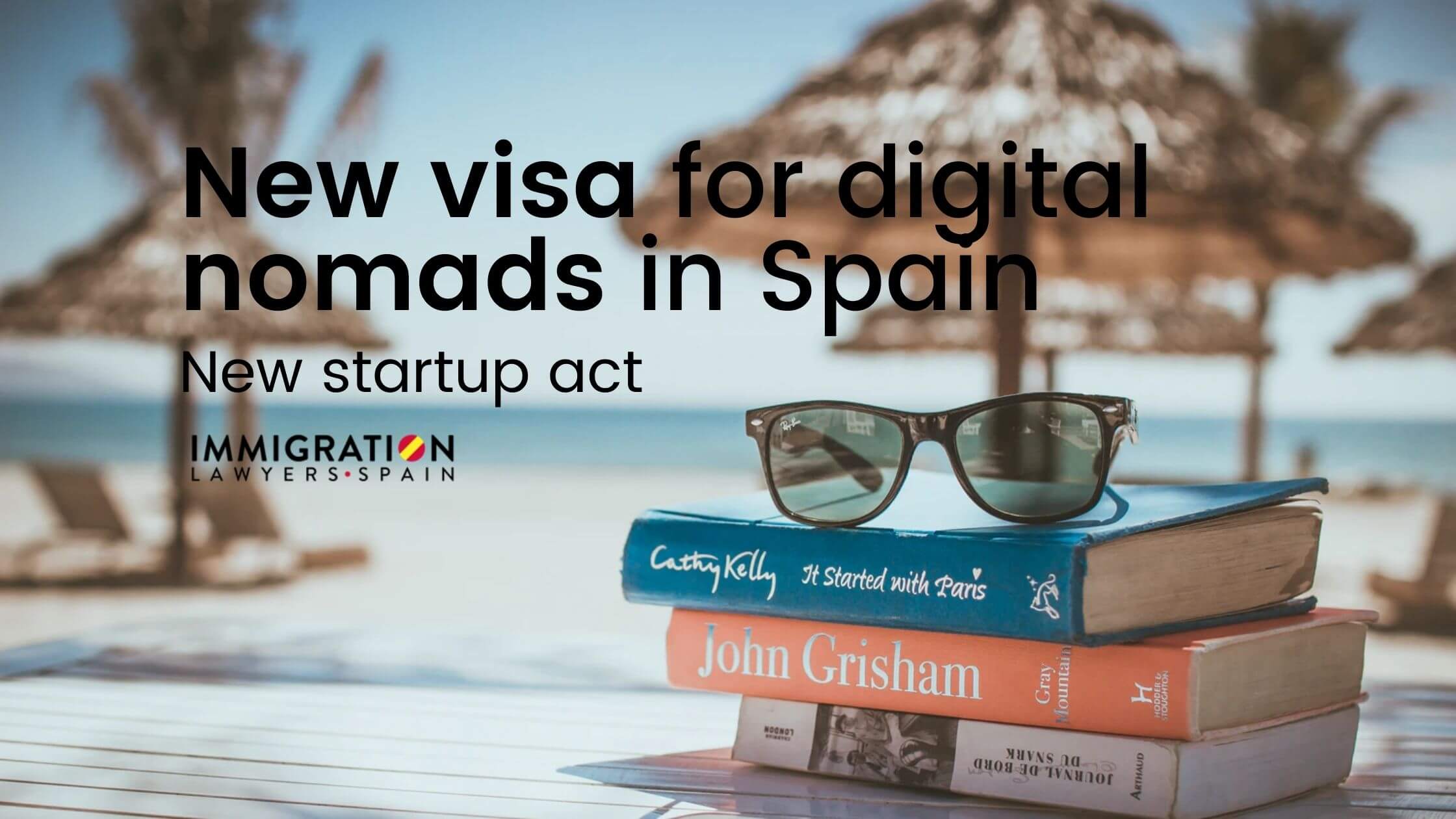 We have really good news! In the upcoming weeks, the new law for startups in Spain, will be finally published, and with it, important changes within the immigration law.
With this law, aimed to promote and develop entrepreneurship in the country, a new visa will be created for digital nomads and remote workers who are in Spain.
So if you would like to learn everything we know so far about the new visa for digital nomads and its requirements, keep reading!
While it is true that many startups have been born in recent years in Spain, the related legislation was not at the level it should be.
But this could change very soon.
During the last few weeks, the Spanish Congress voted and published a final text  which has the aim of revolutionizing Spanish legislation related to entrepreneurship and the startup world.
More specifically, this new startup law aims to:
Boost the entrepreneurship ecosystem in Spain, facilitating and enhancing the creation of new fast-growing technology companies.
Attract foreign investment and talent to the country
Convert the Spanish territory into a real hub of reference for international entrepreneurship
To achieve these objectives, the government proposes to offer a large number of tax incentives to startups and foreign workers, to offer investment facilities, to regulate the sector in a more beneficial way for its development; and, what this article is all about: to create a new visa for digital nomads and remote workers relocated in Spain.
Who will be able to benefit from the new visa for digital nomads?
Until now, many foreigners had a common problem.
Although it is true that some did not intend to develop any type of economic activity in Spain, in many occasions they wanted to continue working for a foreign company or offer their services to international clients while enjoying the Spanish lifestyle.
The non-lucrative or non-profit residency was the most suitable option in these cases, but it had the disadvantage of not allowing them to carry out any type of economic activity.
But all these foreigners will now have it very easy, because with the new visa under the startup law they will find the perfect path to regularize their situation and work remotely from this country.
Thus, we find three different profiles of foreigners who could benefit from the new residence permit:
Foreigners who work remotely from Spain for a company outside Spanish territory.
Those known as digital nomads, people who in many cases have different sources of online income and who travel from one country to another.
In addition, it is also planned to include a visa for people who work in a foreign company located in Spain, including the audiovisual sector.
Don't miss the date! Subscribe and let us keep you informed about all the news about this new visa:
Benefits for foreign entrepreneurs
 We can find two main benefits offered by this new startup act:
The first and perhaps the most important benefit is the creation of a new type of residence permit designed specifically for the cases seen in the previous section (although there will probably be more than one with the approval of the law).
This means that if the foreigner meets the requirements, obtaining residency in Spain will be much easier than it has been until now.
We are most likely talking about a visa that will grant the possibility to work remotely from Spain for 1 year, with the option of renewing it for 2 extra years (and so on) as long as the requirements are still being met.
On the other hand, digital nomads applying for the visa under the new startup act will also enjoy numerous benefits when it comes to their taxes.
For it is intended to create a new tax regime very favorable for all of them; offering greater flexibility when paying and accessing the non-resident income tax (the specific tax someone who does not have his economic center of interests in Spain or spends less than 183 days per year in the country must pay).
This would mean a reduction in the taxes that these foreign teleworkers would pay; since up to 600.000€ they would just pay 15% instead of 24% (something very similar to the Beckham's Law).
On the other hand, the conditions for accessing this IRNR would be lowered, moving from 10 to 5 years the required period of non-tax residency in the country; and extending the possibility to enjoy this regime up to 10 years (instead of only 5).
In addition, remote workers will be able to request the deferral of the IRNR in the first and second year with a positive taxable income (without interest), and the need to make installment payments of the tax as a non-resident in the two subsequent years in which the taxable income is positive will be eliminated.
Requirements to apply for the new visa for remote workers in Spain
We must bear in mind that this startup law, even though approved at the Congress, may still suffer slight changes; and several of its requirements are still missing.
Hence, we must still wait for the final text to be officially published at the BOE to inform about all related legal information.
However, with what we know so far, there will be four main requirements that any foreigner who wants to apply for this visa will have to meet:
First of all, to prove that one is an international telecommuter who has settled in Spain
On the other hand, it will also be crucial to prove that of the total income, the part coming from Spain does not represent more than 20%
Demonstrate that there is a continuous employment relationship of at least one year with the company for which the teleworker is teleworking
The academic and professional profile of the applicant must be sufficient, demonstrating valid experience and technical knowledge for the performance of the job
In addition, we also find the general requirements that are also to any other residency:
No criminal records
Not to be prohibited from entering Spain
Hire private health insurance
When will the startup law be published?
This is the question everyone is currently asking, as expectations are undoubtedly high and the advantages that this act will offer to the international community are very promising.
But we must be patient. After weeks and weeks of tedious waiting, we are not at the last stage before the law being finally published.
It is expected to "go live" at the end of 2022 – beginning of 2023. 
Hence, during the upcoming weeks we will finally get to know all its specificities and exact requirements. 
So if you want to be updated with the latest news about this visa, subscribe to our newsletter and receive the latest news via email:
<h5></h5><div ><script type="text/javascript" src="https://app.getresponse.com/view_webform_v2.js?u=GonC8&webforms_id=38975002&v=0"></script></div>