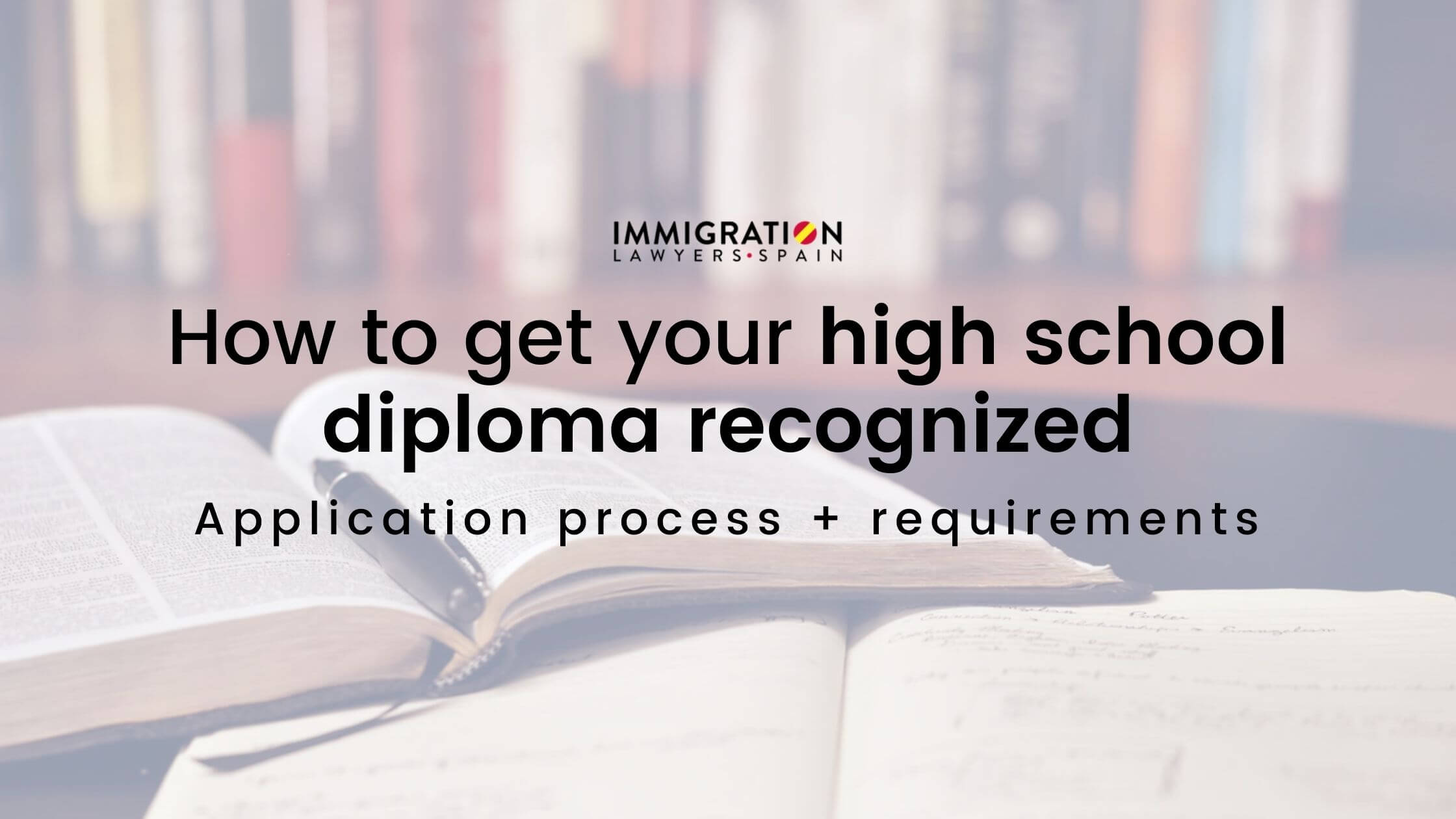 Would you like to homologate your baccalaureate or high school diploma in Spain and enjoy all the benefits that having your title recognized offers? Then keep on reading. In this post you will find out how to do it step by step, how much it costs, how long it takes, and other relevant and useful information.
Who must get her title recognized?
Let's start by answering this question, since it is undoubtedly the basis of everything we will see below.
As you may already know, in Spain it is NOT compulsory to study high school, since compulsory education ends at what's called "ESO" or secondary education ("educación secundaria obligatoria" in Spanish).
However, in case of wanting to enroll in a university degree or higher vocational training ("formación profesional"), it is necessary to have completed your baccalaureate.
And this is when the need to homologate and validate the degree comes into play.
If you are a foreign citizen who wants to study in a Spanish university, you will have to demonstrate that you have successfully completed high-school. And, for this, it is necessary to homologate your foreign degree.
*Please note that in order to enter university you must also pass the "selectividad", the exam that acts as an entrance exam.
However, if you want to join or start non-university studies in Spain, then it will not be necessary to validate your diploma.
Besides, validating your baccalaureate has many other benefits. For example, you will be able to apply for public job postings in Spain.
Therefore, if you have studied your baccalaureate in your country of origin and have started to live in Spain, validate your education as soon as possible! There are many ways in which you will benefit, and the procedure is quite straightforward.
Do you have any doubts? Our lawyers will solve them all instantly:
How to homologate a foreign high-school diploma in Spain
After having completed your baccalaureate (fully without pending subjects) abroad, the first step you should take is to verify and understand the equivalence between the diploma you obtained in the country of origin and the corresponding educational level in Spain.
That is to say, if in Spain your education level is equivalent to a baccalaureate or vocational training.
In addition, it is important that the equivalence is sufficient in terms of length of studies, academic level, and content (subjects).
It is important to analyze whether or not there is a double-treaty agreement between your country of origin and Spain in this regard.
The equivalence and validation will vary depending on the territory you come from.
Through this link you can find all the countries with an agreement and its conditions, including the countries under the Andrés Bello agreement.
Where should I submit my application?
In the case of being in Galicia (
start here)
, Basque Country (
this is the link
), or Catalonia (
here
), the application must be submitted to the
Department of Education of these communities
. On the other hand, in the case of living in any other Spanish region (including also Ceuta and Melilla), the target location will be the
General Registry of the Ministry of Education
, in the Areas of High Inspection of Education. What if I am in my country of origin or outside Spain? Then the procedure must be carried out at the
Spanish Embassy
, in the corresponding educational area. In addition, you can nowadays
file the application electronically through this link
.
Let's see the complete list of documents that you will have to submit in order to homologate your baccalaureate title:
Certified photocopy of your passport, NIE, or any other document that serves to verify the identity of the applicant.
Application form, which you can download and fill in here.
Document certifying the payment of the corresponding fee, equivalent to 47,82€; which you can obtain online here and pay at any bank.
A certified copy of the official title or diploma obtained in the country of origin and that we want to validate/homologate in Spain.
In case it is necessary, you must provide an official copy issued by the educational center verifying the passing of the final exams that grant the degree to be homologated.
Certified photocopy of the certification of the syllabus, which must include the subjects passed, the grades obtained in each of them, and the corresponding academic years.
*All foreign documents must be apostilled and legalized, except those coming from a country of the EU or European Economic Area.
How much does it cost to get your title recognized?
The total cost that you will have to pay is the cost of the fee necessary to formalize this procedure.
More precisely, we are talking about 47, 82€ (bear in mind that this amount may change year after year).
However, there are certain situations in which you will not have to pay this fee.
We are talking about the cases in which the foreigner must validate an educational title equivalent to compulsory secondary education.
But for a baccalaureate or professional education, you will have to pay this amount.
The whole process is a bit long and can take from 6 months to a year, although the resolution will be obtained in a maximum of 3 months.
But we have good news.
Once you have submitted the application for the homologation of your diploma, it is possible to start studying even if the whole homologation is not yet complete.
How?
By applying for a conditional enrollment form.
This document, granted by the institution where we have initiated the recognition process, will allow you to enroll in those Spanish higher studies you wish to pursue as if the recognition had been already granted.
If you need our team of immigration lawyers to help you out with your application, do not hesitate to contact us now: