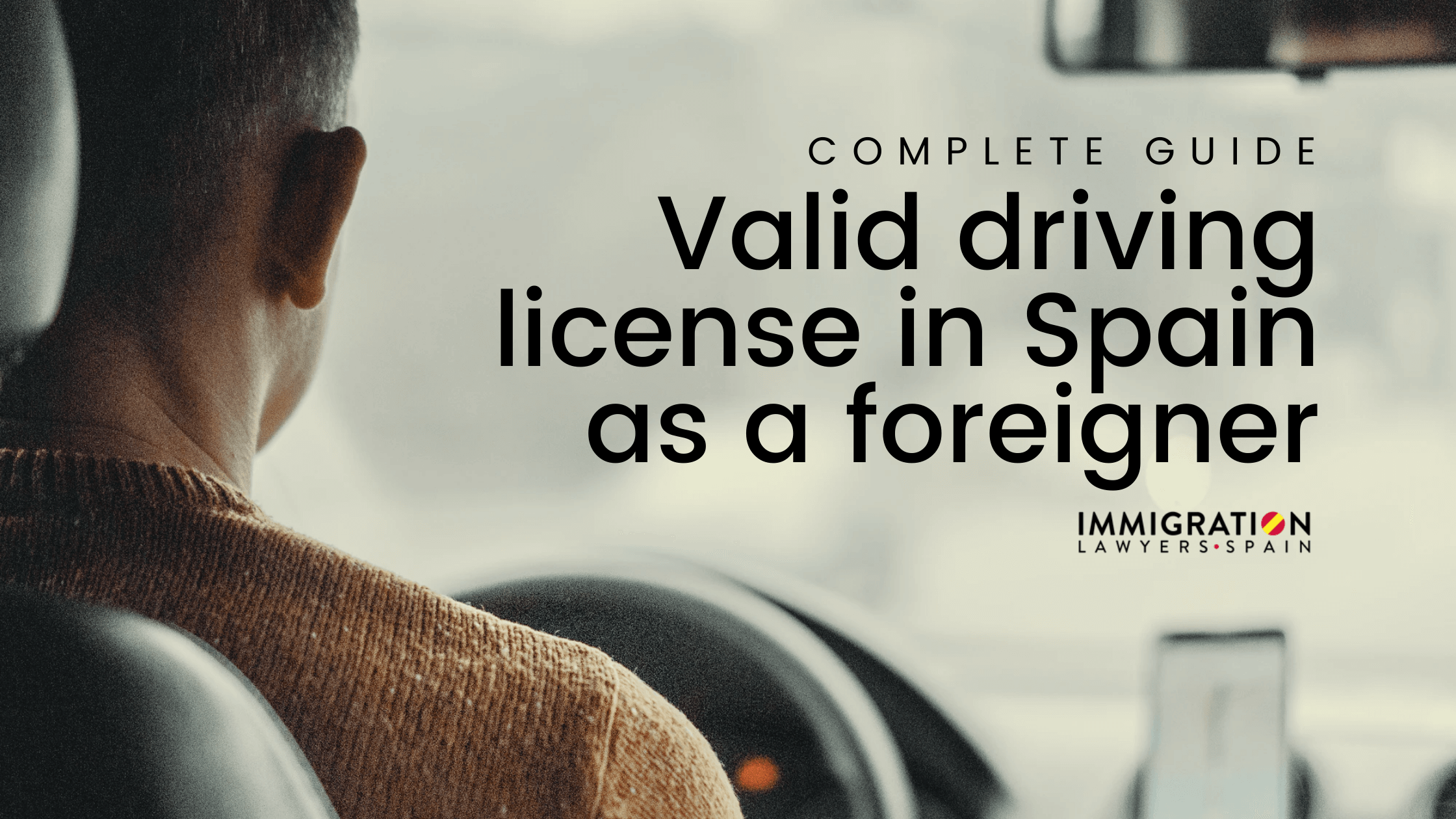 If you are a holder of a driving license issued abroad who is living in Spain, this post is for you. You are about to discover how to move to a Spanish driving license step by step. We will explore which are the documents you must submit, where should you carry out the procedure, how long it actually takes, and some extra tips that will be very useful in order to avoid losing time.
Is my driving licence valid in Spain?
To answer this question we must first make an important distinction. And that's because it depends on whether you are a member of a European Union country or a non-EU citizen.
On the one hand, EU and European Economic Area citizens (Iceland, Liechtenstein and Norway) are allowed to use their home-country driving license within the Spanish territory.
In other words, their licenses are valid in Spain; although with a nuance: they must be over the minimum age required to drive a vehicle in Spain (which is 18 years old).
However, if you are applying for an EU registration certificate to stay in the country for the long run, it is much better to exchange it for a Spanish driving license as soon as possible, as the process is really simple. 
You just need to make sure that the license hasn't expired in order to successfully exchange it.
And what about citizens from outside the European Union?
Their original license will not be valid. They can't use their existing one.
However, Spain has agreements with countries all over the world to make it relatively easy to exchange a driver's license. Thus, the first thing a foreigner who wants to drive in Spain must do is to check whether her country of origin (where the license was obtained) is indeed one of those included in the list. 
If it is, green light for the exchange.
Do you have any questions? Ask our immigration lawyers anything:
Which countries can exchange their driving license in Spain?
We are talking about Argentina, Bolivia, Brazil, Chile, Colombia, Dominican Republic, Ecuador, El Salvador, Guatemala, Nicaragua, Panama, Paraguay, Peru, Uruguay, Venezuela, Morocco, Tunisia, Turkey and Algeria, Philippines, Macedonia, Serbia, and Ukraine.
Alternatively, you can check if yours is included in the list by entering this link.
In the selector menu (as indicated in the screenshot below) you can check whether your country is listed or not.
If the country is on the list, you can formalize the procedure (which we will explain below).
Do I have to take a test to redeem my license?
Are all licenses exchangeable?
No. You must be very careful because not all permits are redeemable, even if your country is within the list of countries with an agreement.
First of all, if the driving license was obtained after the agreement between both countries was signed and the foreigner already got its residency in Spain, then the process is not possible.
In other words, only those permits obtained prior to obtaining residence in Spain are exchangeable.
Furthermore, if the permit was exchanged in a country other than Spain and that country does not have an agreement, then the exchange will not be permitted in the Spanish territory either.
Therefore, you must be very careful with the specific situation you are in.
During the first 6 months with your legal residence in Spain, you will be able to use your original license, the one you got in your home country.
However, once this period expires, you will have to process the exchange into the Spanish one.
What are the requirements you will have to meet?
Be a resident in Spain
Your driver's license must be valid at the time of the exchange
It cannot be suspended, restricted, or canceled
Your driver's license must be previous to your residence in Spain (that is, you have obtained it before obtaining your TIE)
You possess another permit of the same kind as the one requested in another EU or EEA country
How does the process work?
Each country requires a different procedure. And although the general process is very similar in many points, it is essential that you find out which steps and documents you must provide according to your particular case.
As we have seen, perhaps you must pass an extra test to get your Spanish license, or perhaps that is not necessary.
However, this process is always managed by the Directorate General of Traffic in Spain (the DGT), and can be done in two different ways: online from their website, or in person.
In both cases you must prepare all the documentation (which we will see below), and deliver it to the provincial headquarters.
If you do it online, you will have to upload those documents in pdf format (you will need a digital certificate and electronic signature). Once you have uploaded these papers, you will be able to print a provisional document that will serve as a provisional license.
Afterwards, you'll still need to make an appointment at any DGT office to hand in your old driving card and to submit a photo of yourself so that they can make your new Spanish card.
If you choose to do the whole process in person, the first step is getting an appointment with the DGT and handing in all the necessary documents.
Once you have submitted all the documents, you will be given a provisional driving license for 3 months (paper format). With this official paper, you will be able to drive for 90 days, time that it takes to receive the official license at home. Prior to that, you should always carry your TIE or Spanish ID card with you while driving.
If you can't attend by yourself, you can always designate a representative to do the paperwork for you (and deliver all the documentation). In that case, you will have to present extra paperwork: a document authorizing him/her to formalize the arrangements on your behalf (in addition to presenting her ID).
Get an appointment to redeem your driver's license
As we have mentioned, you must make an appointment with the DGT to present all the documentation and to be given your new driving license.
You can do this by calling 060 or through the DGT's website, selecting your province and the type of procedure to be carried out.
You can get your appointment through this link.
If you are going to exchange a European driving license, check the box "canje de permiso de conducción europeo", as the process will be much faster.
Important warning.
This is undoubtedly the most complicated part of the process, because getting an appointment can be something totally tedious and slow: it can take between 1 and 6 months!
So, our advice is the following. Do not only look for an appointment in the city where you live, especially if it is a big capital city like Madrid or Barcelona. Try to look for appointments in nearby cities as well, otherwise it will take a long time to find a free slot.
Take it easy and be patient, try it out during different times throughout the day, and persist until you succeed.
Which documents should I submit?
Once you get your appointment with the DGT, the next step is to prepare all the documents to be submitted.
What documents are we talking about?
Your home-country driver's license, and a copy of it
Legality certification (historic showing how long you have had the license, if you made any renewals, when, etc.). It must be legalized.
Valid passport and copy
Residence card in Spain (valid) or Spanish DNI
Medical certificate (with vision and hearing tests) with a favorable resolution. You must go to a medical center associated with the DGT to get your psychophysical aptitude report.
Your residency historic, which you can get at the immigration office (you'll need to make an appointment beforehand).
Official application form, printed, and filled out (you will be given it on the day of the appointment so that you can fill it out).
The fee to be paid, which is € 28.30 (if you must take an extra practice test, then the amount is € 92.20). This fee can be paid online at the dgt's website, by credit card at the traffic headquarters, or at any financial institution
Original passport photos, which must be 32x26mm, in color, and plain background.
Keep in mind that when you hand over the old license they will keep it won't give it back to you.
How long does it take to redeem a it?
The process can take from 1 to 6 months. It all depends on how long it takes you to get an appointment.
Once you have your appointment, the only thing left is going to the DGT on the day set, submit all the documentation, and you will directly receive a provisional card.
Although it can be up to a maximum of 3 months until the official one arrives, you can freely drive through Spain with the provisional one without any legal trouble.
Start your change to the Spanish driving license now
Do you still have doubts or would you like our team of lawyers to help you out?
Get in touch with our lawyers and let us guide you step by step: