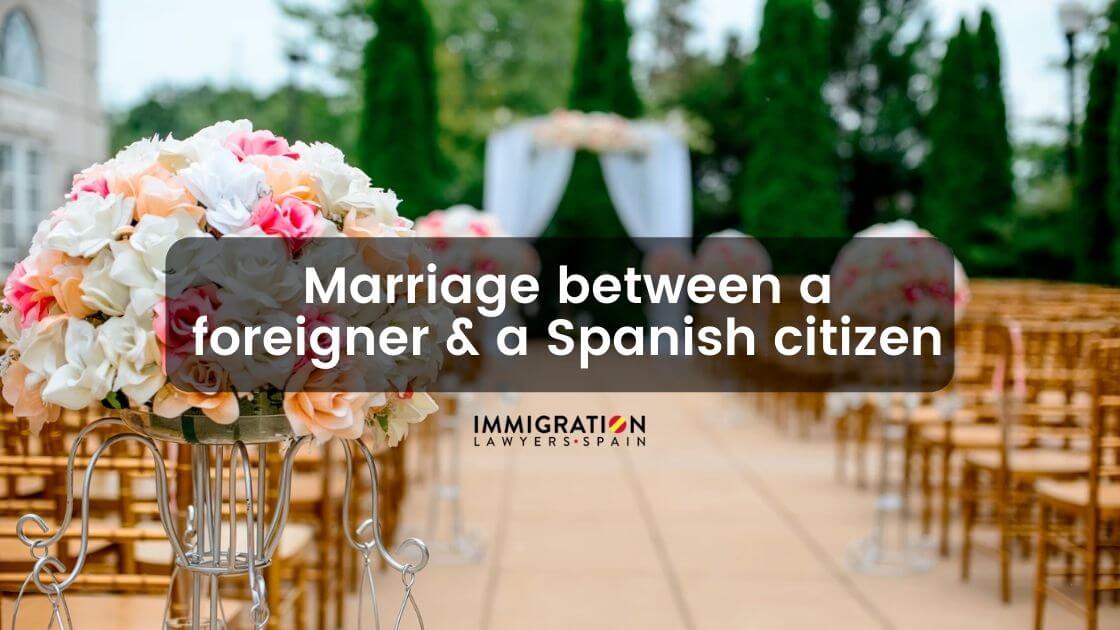 Many foreigners decide to marry a Spanish citizen. And the truth is that, contrary to what many tend to think, that constitutes a simpler process than it may seem. Especially if you know all the legal details and tips that make the process much faster.
And that is exactly what we are going to cover in this article. We will analyze in detail the benefits, documents, requirements, and legal process for the constitution of a mixed marriage between a Spanish national and a foreigner so that all your doubts are solved.
What are the benefits of marrying a Spaniard?
Let's start this article detailing the main advantages this type of legal union offers, something really favorable for the foreigner.
If as a foreigner you marry a Spanish citizen, you will be able to benefit from the following:
First of all, the number of years of legal and continuous residence in Spain necessary to be able to apply for Spanish nationality is reduced to just 1 (something we have talked about in our article on nationality by marriage)
You will be able to obtain a residence and work permit for 5 years (the community card) thanks to being the relative of a European citizen (in this case the Spaniard you are marrying)
Possibility of filing a joint income tax return (IRPF), which can be mean an important tax advantage
Benefits when drafting a will
Knowing in detail these requirements is fundamental, because on many occasions constituting a civil union ("pareja de hecho") will be enough for the purposes of both members (especially when considering the residency process), offering a faster and more agile procedure.
For more information, here you can access a detailed article on the differences between marriage and domestic partnership. We recommend that you read it carefully before initiating the process.
Requirements to form a mixed marriage
In order for this marriage between a foreigner and a Spaniard to take place, just two main requirements must be met:
First, that the union is not a fraudulent marriage or one of convenience. That is to say, it must be demonstrated that a real affective relationship exists, and both members of the couple must show their legal consent to legally formalize the union¡
On the other hand, both members must be single at the time of the marriage (something that will be demonstrated through the certificate of bachelorhood or final divorce decree if they were married in the past)
The documents that must be provided to formalize the marriage (which we will next see) have the main purpose of proving these two points.
But perhaps the most important thing is to understand that within these 2 requirements we do not encounter the necessity that the foreigner is in a legal situation in Spain.
That is to say, the foreigner could enter under an irregular situation, not have a valid and in force residence permit, and be able to get married without any problem the Spanish citizen.
In fact, and as we have seen at the beginning of this article, this is a very common path used by many non-EU citizens to finally obtain their EU family member card for 5 years after entering as tourists and getting married in Spain.
Please note that the procedure and the documents required will differ slightly depending on the Civil Registry that corresponds to you according to the municipality in which you are registered.
However, here is a list of the general documents that you will need to provide:
Identity document of each member (passport in the case of the foreigner, and DNI or passport in the case of the Spanish citizen)
Updated birth certificate of both members of the couple
Documentation that proves the civil status of each one (single, divorced, or widowed). It is what is known as the certificate of faith of life ("certificado de fe de vida"). In the case of foreigners, if you are in your country of origin, this document can be obtained directly there.
In addition, bachelorhood certificate or divorce decree (if one of the two members was married and divorced).
Proof of where both members lived during the past 2 years. Depending on the Spanish region in which you live, this proof could be an affidavit, census registration, etc.
Certificate issued by the Consulate of the country of origin of the foreigner that accredits the capacity to contract marriage.
Consular registration
Please note that the documents coming from abroad (from your country of origin) must be translated into Spanish and properly legalized.
Any doubts up to this point? Read on for more information or ask our lawyers any questions you may have:
In many cases, to finalize the process and verify that it is in fact a real affective union (and not one of convenience) it is possible that both members of the couple must pass a short interview.
This is a small questionnaire for both partners separately in which the administration asks fairly simple personal questions about the life of the prospective spouse and their life together to date.
For example, they may ask about how they met, if the other person has children, their parents' names, what their partner does for a living and what their studies are, how long they have been living together, when did they decide to get married,….
In other words, questions that are no problem to solve for those who share a life together; but that, in no case, will be of an intimate nature.
If we live in different cities, where should we get married?
This is a very frequent and at the same time very important question.
What happens if one member of the couple lives, for example, in Valencia and the other in Asturias? Where should they get married?
Wherever they prefer. Since they live in different municipalities, they have the power to choose in which of the two locations they celebrate the union.
However, if they live in the same place, then it is necessary to get married in the Civil Registry of that city.
We will use this section to make a recommendation that will be key for you to enjoy a fast and easy process. If you are in a big city like Madrid or Barcelona, it is very likely that the process will be extended for months and months.
However, there is a solution: you can request an authorization from the judge in your municipality to get married in the notary, judge, or Civil Registry of another town or smaller city (with fewer applications) in order to have the process ready in record time (often in just 15 days).
If I get married outside Spain, is the marriage still valid?
If the marriage takes place abroad, the Spanish citizen is obliged to register the marriage in Spain.
Otherwise, they would not be able to apply for residency for the non-EU citizen.
This process can be done at the Spanish Consulate located in the country of origin of the foreigner (where the marriage took place) or directly in Spain if one of the two is registered  ("empadronado") in this country (then at the central Civil Registry).
Once this marriage is registered in Spain, the family book will be obtained, and with this document you will be able to apply for the community card for the foreign spouse.
Keep in mind that the marriage certificate must be recent, having a maximum of 3 months of duration when submitting the residencey application.
How does the process work and where does it start?
The process is initiated in the Civil Registry that corresponds according to the census registration of one of the two members of the couple.
That is to say, in order to start the process, it is necessary that at least one of the two members of the couple is registered in a Spanish municipality.
It is important to take into account that for this first step in the Registry it will be necessary to make an appointment (something you can do here), and that both members must attend physically. In addition, a witness over 18 years old must also be present.
During this visit to the Civil Registry, all the documentation that we have seen in the previous section must be provided, and a series of declaratory data sheets will be filled out in order to be able to process the file.
At the end of the visit, an appointment will be assigned for the reserved hearing (interview), although in some cases it will take place on the same day.
Thus, as we can see, in no case does this visit to the Registry correspond with the wedding (something that will be done afterwards after the judge's authorization, and that can be carried out in a different municipality).
It will not be until the celebration of the wedding that both members "are married according to the Spanish civil regulations"; since it will be then when they will receive the family book and a literal certification of marriage.
Lawyers for mixed marriages in Spain
Do you need help formalizing your mixed marriage in Spain? Would you like to have a team of expert lawyers who will not only help you form the union but also help you obtain residency in Spain?
Then let us help you.
Click on the following link, explain your situation to us, and let us get in touch to give you the legal advice you need.