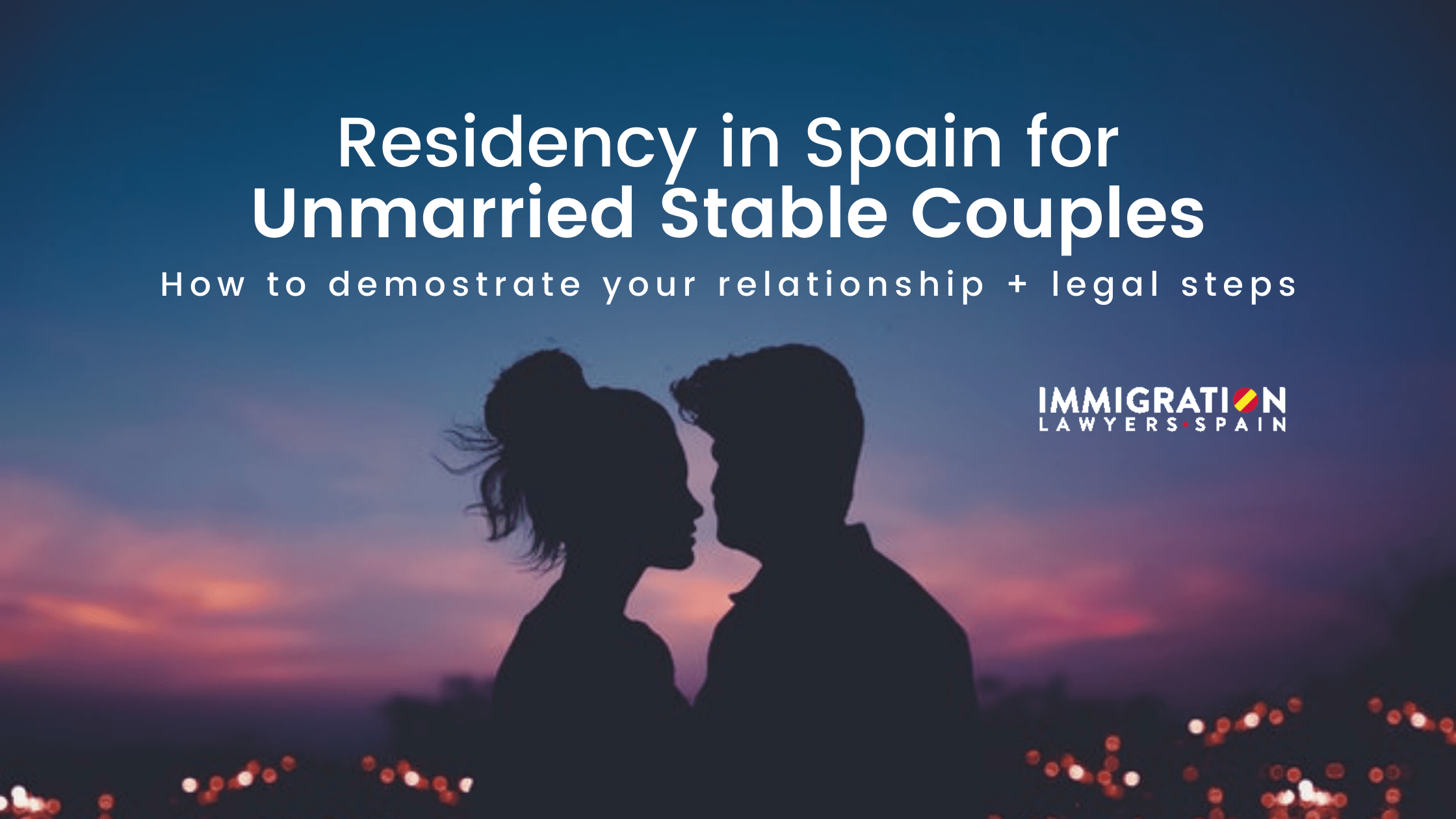 It is very common. A Spanish citizen has been living abroad with his partner for a long time. Perhaps they haven't married yet, or perhaps they have done so but without registering their marriage or civil union in Spain, so they cannot apply for residency. However, the Spanish immigration law does in fact allow them to obtain it as long as they can prove their relationship, and in this article we will show you how. We will explore everything you need to know about the residency for unmarried stable couples, including the main requirements and documents to be provided.
How to get the residency as a non-registered stable couple
As we have seen in many of our articles, one of the main ways that foreigners use to obtain residency in Spain is through the permit known as the family member of a UE citizen. We are talking about the residence and work authorization for 5 years that any non-EU citizen can obtain simply by being the relative of an European citizen.
However, there are limited possibilities here, as this process is not valid for any family member you can think of. Uncles or grandchildren, for example, do not fall under the cases allowed.
However, one of the family bonds that can apply for this card are couples.
That is, if you are married (you have constituted a marriage) or have registered a civil partnership with a European citizen, you can get your residence permit under this path.
And that is the most important requirement: that the marriage or civil union is correctly registered. In other words, you must prove that the relationship is legally valid, and to do so, it must be registered in Spain.
This ends up being an inconvenience for many foreigners who have either not registered their union in any country, or have done so outside of Spain.
But there is a third possible way. The immigration law also contemplates, through the additional provision twenty-three of the RD 557/2011, the possibility that a stable and unregistered couple can obtain residence in Spain. 
And it would do it by means of a residency for exceptional circumstances.
Do you have any doubt? Ask anything to our immigration lawyers and get an instant answer:
What is the unregistered stable partner?
The unregistered stable couple is the type of union (similar to marriage or civil partnership) in which there is no document, registration, or legal evidence that proves that a relationship actually exists (the union has not been officially registered), but there are other ways that can prove that the emotional bond is actually there.
That is to say, even if there is no official record to support it, these are cases in which the members of the couple really have a solid and long-lasting relationship, sharing their life projects together.
And this type of couple presents important advantages.
The most important one is that it enables the foreigner to harness the Community regime on an exceptional basis, being able to obtain a residence permit in Spain as a family member of a European Union citizen (even though the general rule would not include that type of relative).
How? Let's keep analyzing the situation.
Who can apply for this residency due to exceptional circumstances?
There are many foreign citizens who actually have a relationship with a European citizen who would like to apply for a visa as a family member of an EU citizen to start living in Spain, but cannot.
We are talking about the following cases:
Couples who have married abroad but for certain reasons have not been able to register the union in Spain (remember that it is important that the marriage or partnership is registered in the Spanish registry in order to apply for residency).
Couples who have formalized their marriage, but the registration is taking too long; and they need to apply for the residence as soon as possible.
Finally, couples who have not registered or formalized their affective relationship in any way, but who are in a solid relationship and can prove it.
For all these cases, the law on foreigners allows them to obtain their residence permit anyway, a permit for exceptional circumstances as they are the stable partner of a European Union citizen.
Unlike the residence authorization obtained in the general community regime, in this case we are talking about a temporary residence permit for 1 year (which can be renewed) instead of 5. 
It still allows the foreigner to work in the country.
<h5></h5><div ><script type="text/javascript" src="https://app.getresponse.com/view_webform_v2.js?u=GonC8&webforms_id=38975002&v=0"></script></div>
How to demonstrate that the relationship does exist
One of the most important requirements in this process is to demonstrate that the foreign citizen is actually a partner of the Spanish (or European) individual.
There are different ways to do this, and although below we will provide a series of tips that you can use, in the end, it is completely subjective. The clerk in charge of evaluating your situation and issuing her verdict has the discretion to determine whether or not the evidence you provide is sufficient.
So we recommend that the more proof you can provide, the better.
However, below is a list of the evidence that will be most useful to demonstrate the stable relationship:
That the relationship is at least one year long.
You have been living together for many years and you can prove it with a certificate of cohabitation.
Provide any type of document that proves the relationship. For example, a joint will, being beneficiaries of the same life insurance, common "empadronamiento", etc.
Shared bank accounts.
Having children together.
Statements from family members or close witnesses who testify before a notary that the couple is actually a stable couple and that indicate how long they have been married.
Other evidence, such as photographs on social media, accommodation in other countries if you have travelled, hotel reservations, communications via emails or Whatsapp, etc.
As you can see, there is no definitive proof. Each case is particular, and you must analyze how to prove it in your personal case (according to the evidence you are able to gather).
If you have doubts here, our team of immigration lawyers can help you out find the best way to proceed. Simply send us an email at [email protected] and we will get in touch. 
Requirements and legal procedure
Please note that in the case of requiring a Schengen visa to enter Spain, the procedure must be initiated at the Spanish consulate located in the country of origin. If you do not need this visa, you can do it directly from Spain.
Thus, the documents and requirements that you must provide are the following:
Passport of the foreign citizen who wants to start living in Spain
Certified photocopy of the Spanish citizen's ID card (DNI) or passport
Declaration by the European citizen stating that she wants to reunite and start living with the non-EU partner in Spain
Birth certificate of the Spanish citizen to verify her nationality
Demonstration of sufficient economic funds by the Spanish citizen
Absence of criminal records
Document explaining the history of the couple, with a brief summary of the evidence provided and specifying how the requirements of are being met
Here we find a crucial requirement in order to stay in the country for the long-run.
That is because it will be essential that during the first year of residency for the non-EU citizen, both members formalize the relationship, either by constituting marriage or by officially registering the civil partnership.
Otherwise, the foreigner will not be able to renew his or her residence permit.
Start your application for the unregistered civil partnership residency
And up to here everything you need to know to get your residence permit even if you have not registered your marriage or union in Spain or you have not yet been married.
If you still have doubts or would like our team of lawyers to guide you step by step through the whole process, do not hesitate to contact us.
We will answer all your questions in less than 24 hours!