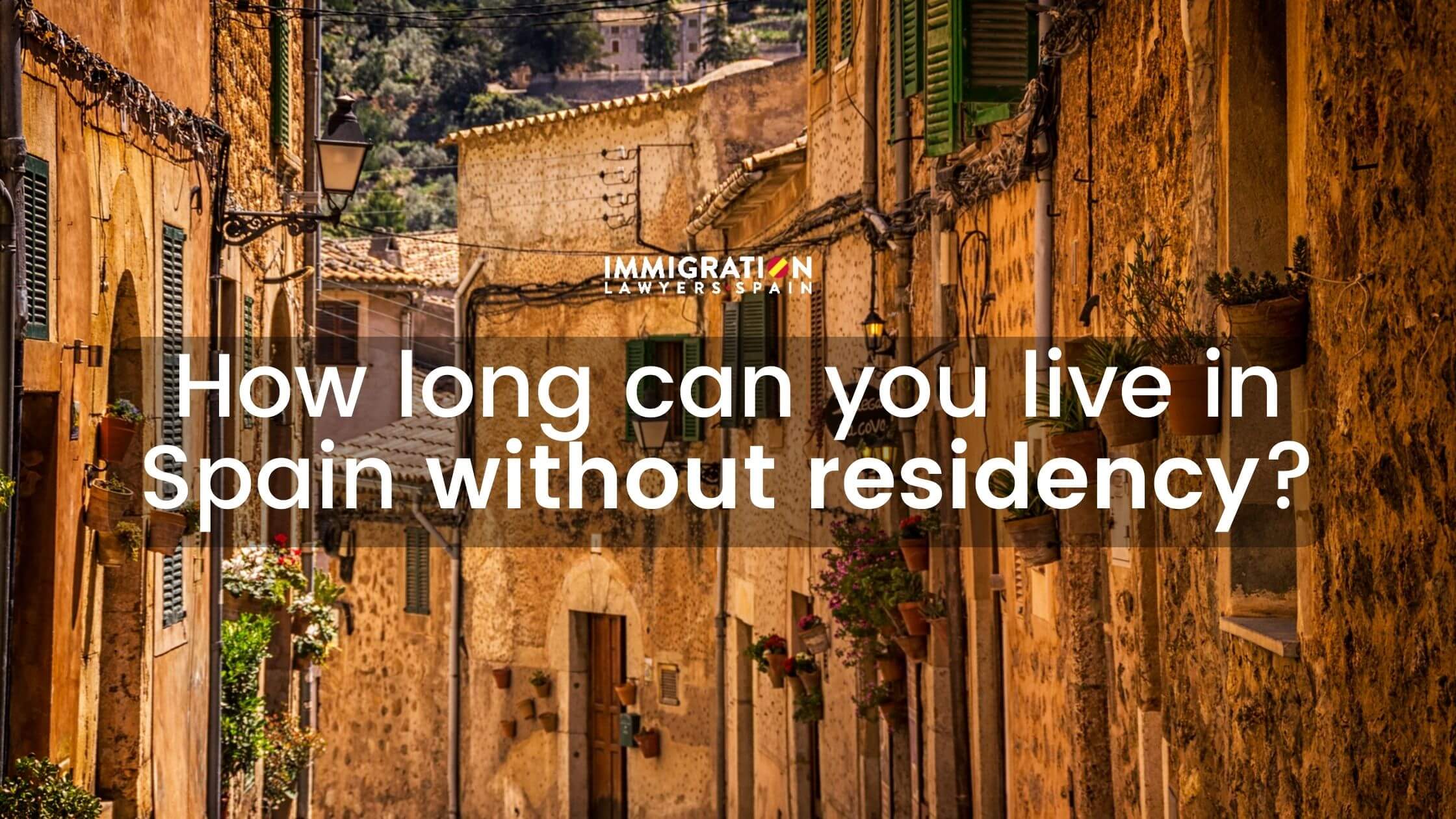 Many foreigners have the same question. If I move to Spain, how long can I live in the country without actually applying for residency? Which is the legal length I am allowed to stay without many times long and tedious residence permit application? In this article we are going to solve this doubt once for all!
In order to answer this question we are going to use the 90-day rule.
This rule simply states that you can live in Spain without residency for a maximum of 90 days. After those 3 months, you need to either obtain a residence permit, or leave the country.
And that is because the shortest stay option is the tourist (or Schengen) visa, which lasts exactly for 90 days. That is, if you plan to visit the country for tourism, business, studies, or for any other reason that will take less than 90 days, you must apply for a tourist visa in order to enter Spain.
But if you plan to stay longer than that, a residence permit is required.
Here you can find a list of all the different residence permits in the country. Each has its own requirements, and the best option entirely depends on your particular situation.
Nevertheless, bear in mind that according to your country of origin, you may not need to apply for a Schengen visa in order to stay for a maximum of 90 days in Spain. So you could freely enter the country without any prior application. Here you will find a list of all the countries that need to apply for one.
When do I become resident?
But now we need to clearly understand this next step.
When do you become a resident in the country?
Because you may have heard the distinction between resident and non-resident, which we explained in depth in this article. 
But to summarize and help you understand, you will become a resident in the country after spending 183 days per year in Spain.
If you live in the country or stay for anything less than those 6 months, you are considered a non-resident. 
This distinction is crucial for many reason, but perhaps the most important is taxes.
If you are regarded as a resident, you must pay resident taxes. This means paying income tax for the worldwide income generated in Spain. 
Also, in order to renew certain residencies like the non-lucrative visa, you must stay in the country for 183 days minimum, hence you must become a resident.
Do you have any doubt? Ask anything to our immigration lawyers and get an instant answer:
What to do if the legal 90 days are over
So, as we have just mentioned, doubts are over: you can stay a maximum of 3 months in Spain before becoming "ilegal" provided that you don't have residency.
But what happens then? Which are the best alternatives to avoid legal problems if your 90 days as a tourist are nearly over?
The vast majority of residence permits must be applied at the Spanish consulate in your country of origin. That would require you to leave the country in order to get your legal residence and then come back again.
But next, we are going to analyze the different alternatives to avoid leaving the country. Because you could legally extend your stay after those 90 days are over with the following options:
Family member of an EU citizen visa
Since the last modification on the law on student visas, you can now travel to Spain with a tourist visa, find a University in the country, enroll there, and obtain your visa so you can stay in the country for the whole length of your studies.
You just need to make sure to start the process at least 2 months before the start of your studies, and this visa will be yours.
You can even do paid internships with it!
Make sure to find a course that takes at least 20 teaching hours per week, and the student visa will be for sure one of the easiest paths to live in Spain for the long run.
<h5></h5><div ><script type="text/javascript" src="https://app.getresponse.com/view_webform_v2.js?u=GonC8&webforms_id=38975002&v=0"></script></div>
Residencies under the Entrepreneur Law
There are different types of visas under the Entrepreneur's Law that can be obtained directly from Spain too.
These residencies were created to attract talent and investment to Spain, hence the need to create an easy process for all foreigners that quality under it.
In that sense, the different alternatives are:
The golden visa, if you are planning to invest in Spanish real estate.
The entrepreneur visa, if you plan to start your own project in the country, and it involves a high level of technology and is completely innovative
The highly qualified visa, if you get a job offer as a manager earning over € 50.000 per year
Intracorporate transfer visa, if your company relocates you to Spain.
Residency for investigation purposes.
And, finally, an option chose for many foreigners who have overstayed in Spain past those 90 days, and none of the options we have seen before fit into their particular case.
With the procedure of arraigo you can get residency in Spain after living in the country under a prolonged irregular situation.
The exact duration depends on the type of roots process:
For the social arraigo, you must have lived in Spain for 3 years without legal residency, and find a job offer
For working arraigo or arraigo laboral, the years required in Spain are 2, out of which during a minimum of 6 months you have worked for a company
And finally, for family arraigo you just need to demonstrate you are the parent of a Spanish child or children of Spanish citizens by origin.
Do you need legal assistance with your legal situation as a foreigner in Spain? Then wait no more! Our team of immigration lawyers is at your complete disposal. You just need to send us an email and we will get in touch in less than 24 hours: